September 03, 2014 – Road Rash Jailbreak
Do you remember the game Road Rash Jailbreak? The game was developed by Eletronic Arts and it's available for PlayStation 1. This is one of my favorites games for PlayStation 1, I play very often yet.
In Road Rash Jailbreak, you can play as a gangster or a cop, both modes are great! In cop mode you need to arrest one of the main gangsters or a number of gang members, Cp. Draco and Cp. Helmut are the most difficult to arrest because they are ranked as captain. You will be promoted to lieutenant and after that promoted to captain (the last rank).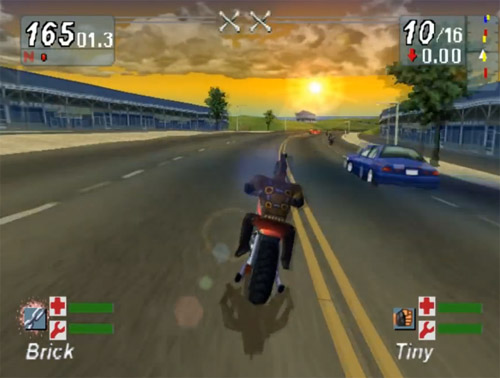 In gangster mode, you need to win all races and escape / beat the cops, you will have a lot of weapons that you can stole from another gangs or cops too or you can just punch and kick everyone too, sometimes it's better. In the gangster mode you will be promoted to lieutenant and the last rank is captain too.
There are two gangs that you can choose to play, Desades and Kaffe Boys, I don't know why but I like to play with Desades, their motorcycles have more style and it's better to control. The soundtrack of this game is amazing, just take a look in the playlist below with some musics of Road Rash Jailbreak:
Best musics in my opinion:
-Symbiont by Celldweller (I can't find the remix used in the game).
-Soul Space Express by Home Cookin
-If the animals could talk by Blacklight Posterboys.
More Articles
Play GB – Free Games
PlayGB also known as Play GB is a website focused in the development of free online games where you can play in your browser, you don't need to download or install anything to play a web game, the only requirement is: Flash Player. If you like to play free online flash games, you are in the right place, follow us to get always our latest releases.


PlayGB.com - Free online games